Product Center
product center
beta-淀粉样多肽-42,beta-Amyloid (1-42) human,107761-42-2
Product introduction
Product name: beta-amyloid peptide-42
Aliases: beta-Amyloid (1-42) human, Amyloid β-Peptide(1-42)(human), DA-42
CAS No.:107761-42-2
Company Number: GT-F047
Sequence: H-Asp-Ala-Glu-Phe-Arg-His-Asp-Ser-Gly-Tyr-Glu-Val-His-His-Gln-Lys-Leu-Val-Phe-Phe-Ala-Glu-Asp- Val-Gly-Ser-Asn-Lys-Gly-Ala-Ile-Ile-Gly-Leu-Met-Val-Gly-Gly-Val-Val-Ile-Ala-OH
Molecular formula: C203H311N55O60S1
Molecular weight: 4514.11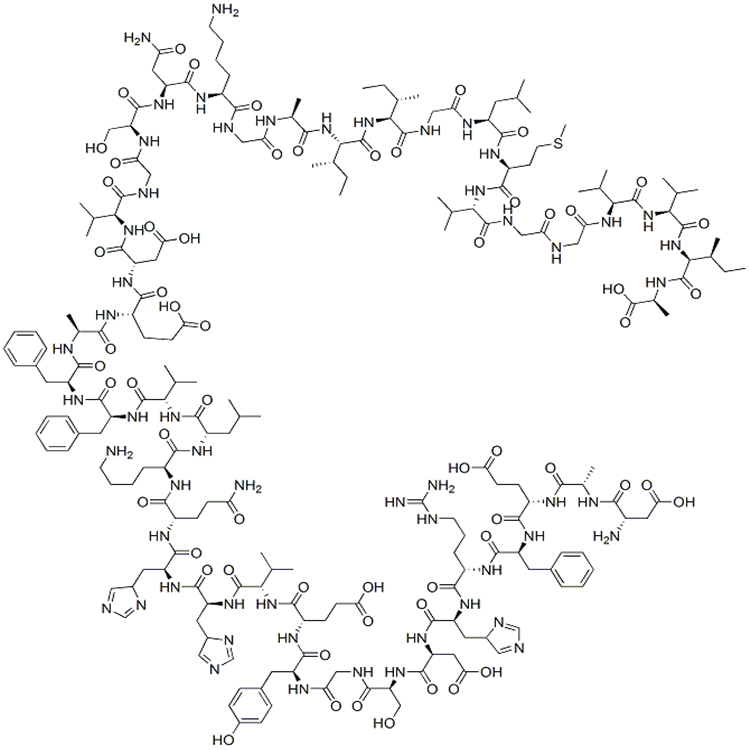 Technical index:
Appearance: White powder
Purity (HPLC) ≥95.0%
Acetate content 5.0%~12.0%
Moisture content≤8.0%
Peptide content ≥80.0%
Endotoxin≤50EU/mg
Packaging and transportation:
Low temperature, vacuum packaging, accurate to milligrams according to requirements.
Product description:
Alzheimer's disease (Alzheimer's disease, AD) is the most common cause of intermittent dementia in the elderly. The main feature is that the patient has irreversible cognitive loss and has amyloid β-protein (Aβ) in the hippocampus and cortex. ) Senile plaques formed by deposition and neurofibrillary tangle (NFT). Beta-Amyloid (1-42) human is a core protein composed of 42 amino acids, which tends to form plaque deposits in the body.
Preservation method: freeze-dry at -20℃, store away from light
Remarks: For research only, not for humans