Product Center
product center
β淀粉样肽(1-40),β-Amyloid(1-40),131438-79-4
Product introduction
Product name: β-Amyloid (1-40), β-Amyloid (1-40)
Alias: β-Amyloid (1-40), Ultra Pure TFA
CAS No.:131438-79-4
Company Number: GT-F048
Sequence: H-Asp-Ala-Glu-Phe-Arg-His-Asp-Ser-Gly-Tyr-Glu-Val-His-His-Gln-Lys-Leu-Val-Phe-Phe-Ala-Glu-Asp- Val-Gly-Ser-Asn-Lys-Gly-Ala-Ile-Ile-Gly-Leu-Met-Val-Gly-Gly-Val-Val-OH
Molecular formula: C194H295N53O58S1
Molecular weight: 4329.90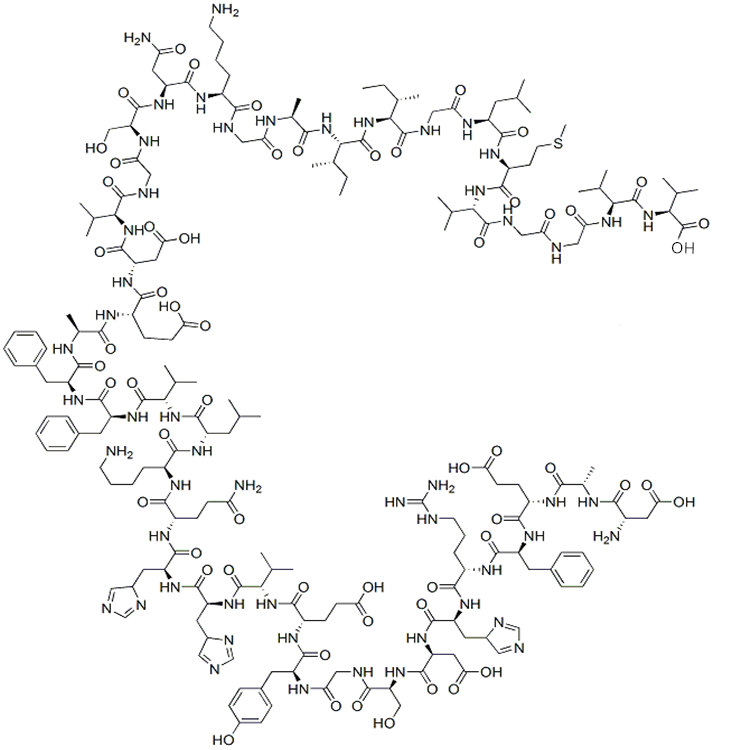 Technical index:
Appearance: White powder
Purity (HPLC) ≥95.0%
Acetate content 5.0%~12.0%
Moisture content≤8.0%
Peptide content ≥80.0%
Packaging and transportation:
Low temperature, vacuum packaging, accurate to milligrams according to requirements.
Product description:
Alzheimer's disease (AD) is a progressive neurodegenerative disease with insidious onset. Clinically, it is characterized by general dementia such as memory impairment, aphasia, apraxia, cognition, impairment of visual spatial skills, executive dysfunction, and personality and behavior changes.
Epidemiological studies have shown that non-steroidal anti-inflammatory drugs (cyclooxygenase inhibitors) can prevent or delay the onset of Alzheimer's disease, suggesting that brain inflammation promotes disease progression before clinical symptoms appear.
β-amyloid protein and cytokines can promote the activation of inflammatory microglia. This process releases hydrogen peroxide, TNF-α and IL-1β killing factors. Hydrogen peroxide can promote the proliferation of microglial cells. TNF-α (tumor necrosis factor) and IL-1β (interleukin) are very powerful biologically active factors that can quickly kill diseased neurons. And the activated inflammatory microglia will persist in the neuritic plaques of Alzheimer's patients for a long time.
Experiments have found that β-amyloid, cytokines and activated microglia can powerfully kill co-cultured neurons. Compared with β-Amyloid (1-42), β-Amyloid (1-40) has Better water solubility. Therefore, activating microglial cells and prompting them to kill diseased neurons may be the ultimate treatment for such diseases.
Preservation method: freeze-dry at -20℃, store away from light
Remarks: For research only, not for humans