Product Center
product center
布雷默浪丹,Bremelanotide,189691-06-3
Product introduction
Product name: Bremelanotide
Aliases: PT-141, PT141
CAS No.: 189691-06-3 (net); 1607799-13-2 (Acetate)
Company Number: GT-A005
Sequence: Ac-Nle-Asp(1)-His-D-Phe-Arg-Trp-Lys(1)-OH (Chemical Bridge Asp-Lys)
Molecular formula: C50H68N14O10
Molecular weight: 1025.2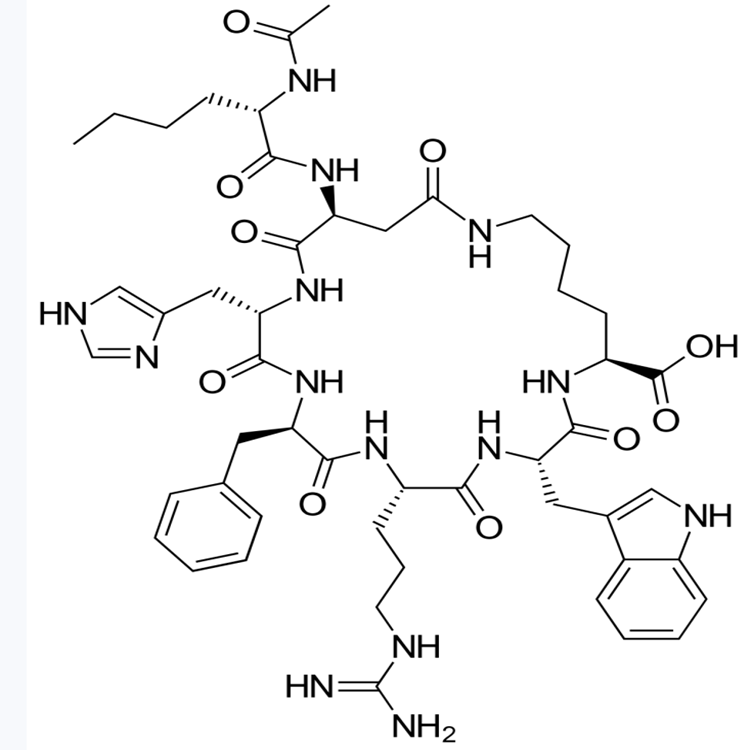 Technical index:
Appearance White powder
Purity (HPLC) ≥98.0%
Single impurity≤1.0%
Acetate content≤10.0%
Moisture content≤8.0%
Peptide content ≥80.0%
Packaging and transportation:
Low temperature, vacuum packaging, accurate to milligrams according to requirements.
Product description:
PT141, Bremelanotide, is an alpha-melanocyte stimulating hormone analog. PT141 was approved by the FDA for marketing on June 21, 2019.
Preservation method: freeze-dry at -20℃, store away from light
Remarks: For research only, not for humans