Product Center
product center
铜肽,Copper Peptide GHK-Cu ,49557-75-7
Product introduction
Product name: Copper Peptide GHK-Cu
Alias: GHK Copper, Copper tripeptide-1
CAS No.: 89030-95-5
Company Number: GT-C039
Sequence: (Cu2+ )H-Glu-His-Lys-OH
Molecular formula: C14H22CuN6O4
Molecular weight: 401.91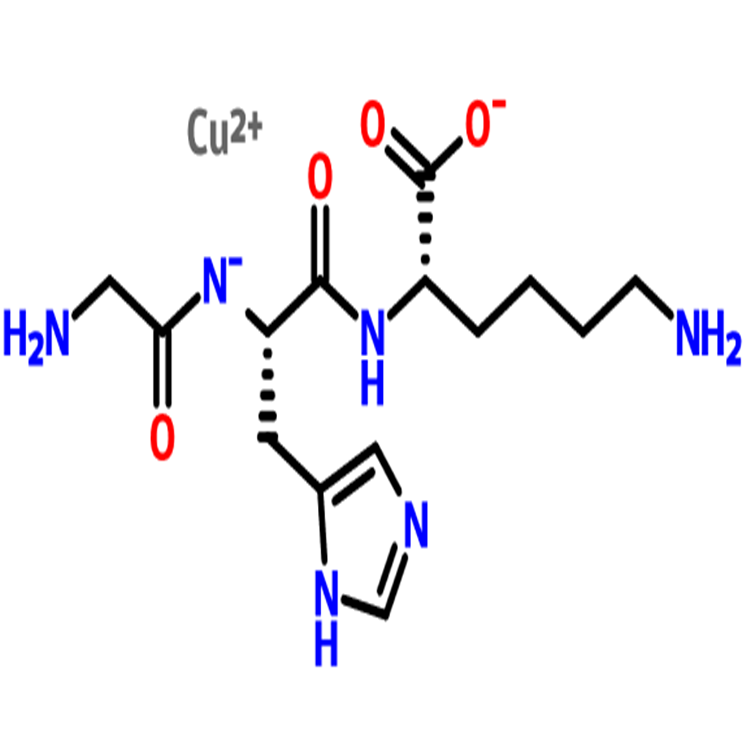 Technical index:
Appearance: White powder
Purity (HPLC) ≥98.0%
Acetate content 5.0%~12.0%
Moisture content≤8.0%
Peptide content ≥80.0%
Endotoxin≤20EU/mg
Packaging and transportation:
Low temperature, vacuum packaging, accurate to milligrams according to requirements.
Product description:
Copper peptides have a small molecular weight and are more easily absorbed by the skin. The biggest feature of GHK Coppe is the formation of complexes with Cu ions. This is very important because there are many important enzymes in the human body and on the skin that require Cu ions. These enzymes are involved in the formation of connective tissue, antioxidant defense, and cell respiration. Play a role. Cu ions also perform signal functions and can affect cell behavior and metabolism. Sufficient Cu ions are signals for stem cell proliferation and tissue repair. GHK also helps to reduce the concentration of free Cu ions to prevent oxidative damage.
Preservation method: freeze-dry at -20℃, store away from light
Remarks: For research only, not for humans